Last Updated on September 14, 2023 by Ch David
This is the ultimate Cartier Juste Un Clou bracelet authentication guide.
We'll go inside and outside the bracelet and show you all the reliable ways to tell fake Juste Un Clou bracelets.
Not what you're looking for? Check out how to spot fake:
For now, let's stick with the Juste Un Clou.
How to spot a fake Cartier Juste Un Clou bracelet
You can spot a fake Cartier Juste Un Clou bracelet by looking at the stamping on the interior side. Fakes never use the same font as original Cartier bracelets!
An authentic Juste Un Clou is never flawed. Cartier pays high attention to detail.
1. Engraving
1.1. Comparison
Let's take the flaws on the fake one by one:
Copyright ® spacing

Fake: The symbol is too close to the "Cartier" logo.
Authentic: There is way more space between the symbols.

Size inscription

Fake: Number "1" uses a different font and the top leg is too long.
Authentic: The top leg of the "1" is shorter than on the fake.

Product Code

Fake: The inscription is too thin. Doesn't fit deep enough into the metal.
Authentic: The text is thicker, as it fits way deeper into the metal.
All authentic Cartier Juste Un Clou bracelets have different product codes.
Helpfulness: If you see two supposedly authentic bracelets with the same ID, one of them is 99% fake.
No product codes overlap throughout authentic Juste Un Clou bracelets.
1.2. Fake example
Let's now look at a lower-quality replica example:
All of the inscriptions are too thick.
Notice how the text sinks after the "17" inscription.
Hence, the fake text leans too much to the right.
2. Shape
Fake: The bracelet looks like a perfect circle.
Authentic: It looks like an oval instead of a perfectly round circle.
The Juste Un Clou bracelet is supposed to fit nicely around your wrist instead of being a bumpy circle.
Let's have a more detailed look:
Fake: The red circle shows you how the bracelet is perfectly round.
Authentic: The green one highlights the oval shape.
3. Shininess
We'll use the Yellow Gold bracelet for this example.
However, this tell works for Rose Gold & White Gold bracelets as well.
Fake: Not enough light is being reflected.
Authentic: More powerful and shiny when light lands on the bracelet.
When light touches your Juste Un Clou bracelet, the gold should reflect it in a powerful way, like in original the example above.
4. Diamond
If diamonds seem to be real, that doesn't mean the whole bracelet is 100% authentic.
Importantly, you have to remember that there are replicas using genuine diamonds.
4.1. Weight
Authentic: The diamond + gold combination must feel somewhat heavy.
Fake: Some bracelets are too light if replica manufacturers don't use genuine diamonds.
4.2. Placement
Authentic: The arrangement of the diamond pattern seems to be uniform.
Fake: There is too much space between each diamond.
On some replicas, diamonds will fall off the bracelet throughout time.
All authentic diamonds will forever stay in place unless they are removed on purpose
4.3. Nailhead
Authentic: There have to be 5 diamonds on the nail head.
Fake: Best-quality replicas have the right amount.
However, some replicas don't have enough diamonds on the nail head.
Others can also have too many diamonds.
4.4. Scratch test
Authentic: Real Cartier diamonds never scratch.
Fake: Low-quality diamonds may get scratched in time.
Older authentic bracelets may get scratched due to wear in time.
Hence, keep in mind that the scratch test isn't always reliable.
That's why we've ranked it last in the Diamonds step.
Now, let's move on to the 5th step!

A quick mention:
The steps we've written so far are the BEST ways to authenticate this item
The next few steps are still reliable methods…
… but they apply to non-top-versions of replicas available for this item
If in doubt, we recommend double-checking the steps we've explained above this line.

5. Nailhead
Fake: The bottom-left side is too curvy. It doesn't look like a perfect circle.
Authentic: Notice how it is a perfectly round circle.
6. Certificate
All authentic Cartier products come with an Authenticity Certificate.
At Legit Check, we also provide Certificates of Authenticity. This works great especially if you're buying a second-hand bracelet that lacks the original certificate.
Helpfulness: Bought a fake bracelet? Our certificate helps get your money back!
This works if you've paid through PayPal or via credit card.
6.1. Comparison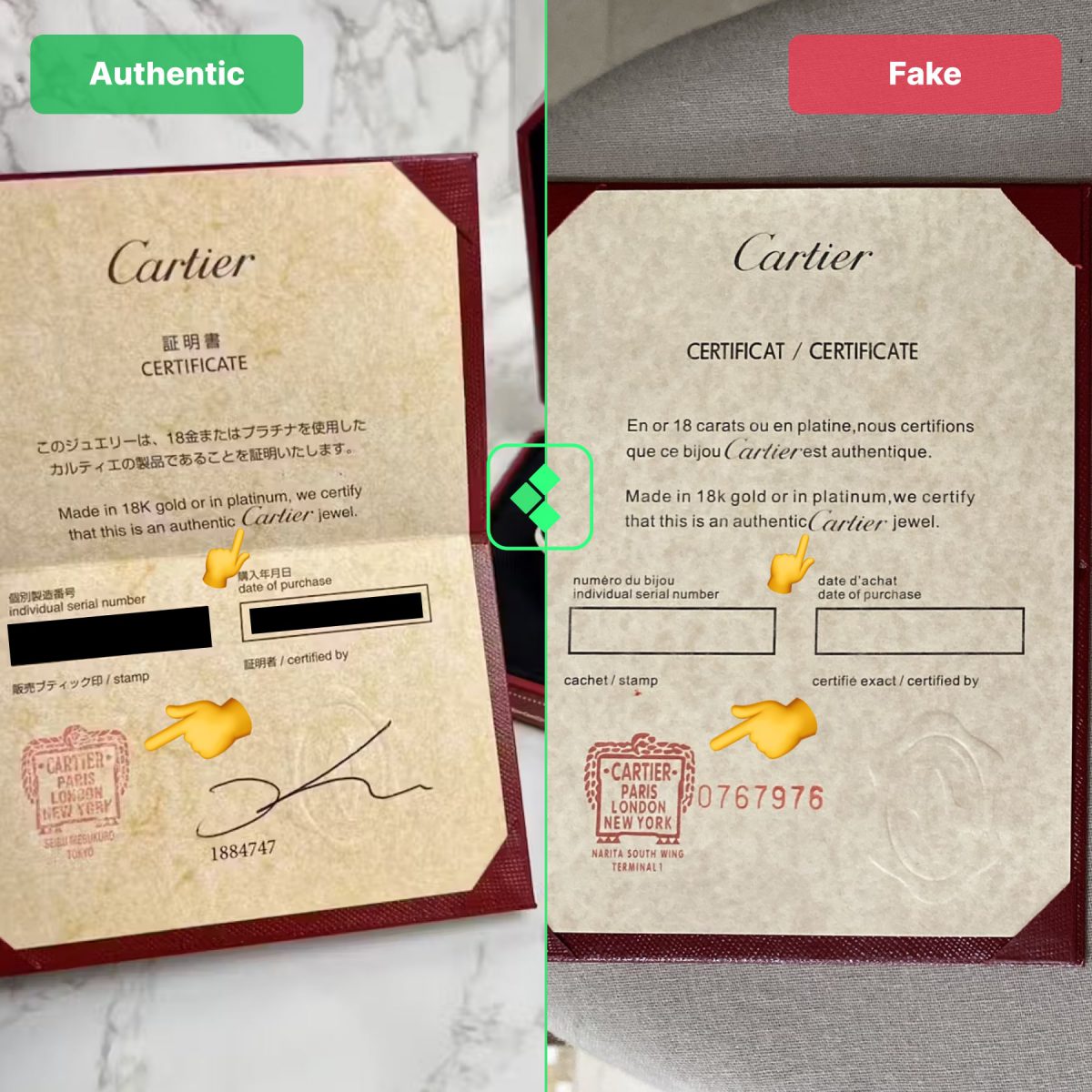 6.1. Spacing
Fake: There is no space between the text. It looks like it spells "authenticCartier".
Authentic: There is enough space between the words: "authentic Cartier".
6.2. Stamp
Fake: The stamp + text are too thick.
Authentic: All inscriptions are thinner.
6.2. Authentic examples
Above are two other authentic examples of Cartier Certificates of Authenticity.
7. Box
The fake box is too dark. The authentic red is lighter.
The fake text is not leaned enough. The real is one is angled more to the right.
Shortlist: Authenticate your Cartier Juste Un Clou bracelet
Engraving: Check if your bracelet uses the right font.
Shape: An authentic bracelet is oval, and never perfectly round.
Shininess: Original bracelets must reflect lots of light.
Gold: Genuine Cartier gold must feel heavy and have 5 diamonds on the nailhead.
Nailhead: Real bracelets must have a perfectly round nailhead
Certificate: Look out for any spacing and thickness issues on the text.
Box: Fake boxes tend to be darker than the authentic.
We've developed a quick 60-second authentication process for your bracelet.
Above are the top 6 tips to help you differentiate between an authentic and fake Cartier Love bracelet.
Expert Cartier Juste Un Clou authentication
If you need help verifying the authenticity of your Cartier Love bracelet, know that we're here to help.
Just send us clear, high-resolution pictures of your bracelet.
We'll get back to you with our findings in 24 to 48 hours.
Along with our verdict, you'll receive a comprehensive report detailing our evaluation on the authenticity of your Cartier bracelet.
This wraps up our guide on distinguishing between authentic and imitation Cartier Juste Un Clou bracelets.
Need our opinion on your item's authenticity? It's a service we provide.
Get a fully-detailed report for why you have a real or fake item. Takes less than 48 hours!
Alternatively, use our free resources: written guides and video tutorials.
Thank you for reading this,
Ch Daniel and Ch David