Last Updated on December 3, 2023 by Ch David
Got a pair of Black Cat 4s? Need to legit check them?
In this guide, we're covering the best ways to spot fakes.
Relevant read: How to spot any fake Jordan 4s.
Let's go to the Black Cats.
How to tell if Black Cat 4s are fake
You can tell if Black Cat 4s are fake if the stitching below the cage has a a big gap between the two vertical lines. Real Jordans must have a small gap over there.
We'll start with this step since it is the best one to tell fakes.
1. Stitching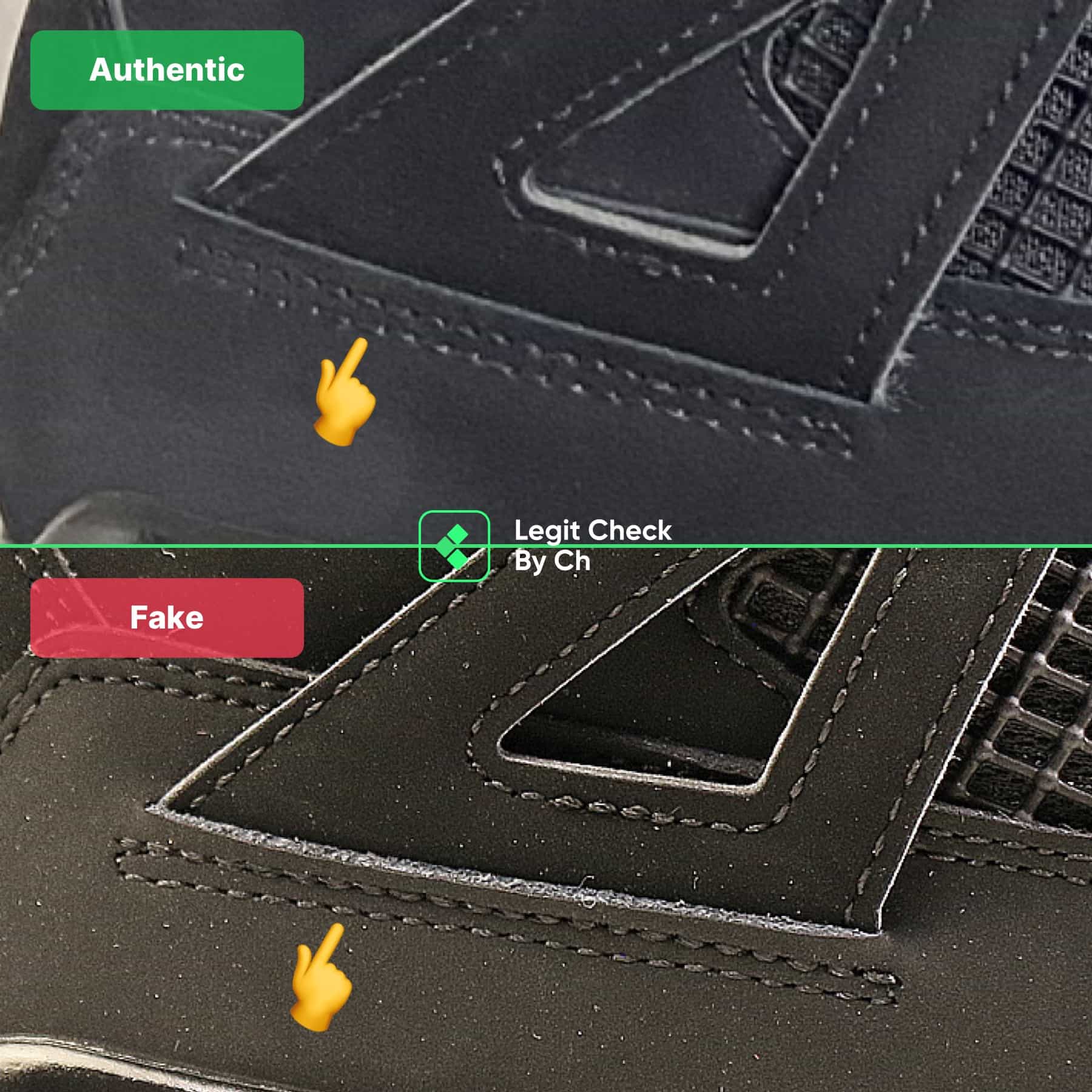 Authentic:

Thicker, longer stitches.
Top and bottom lines are closer to each other.

Fake:

Thinner and shorter threads.
Bigger gap in-between the top and the bottom lines.
Expert Legit Check - Let our team look at your Jordans:
2. Size tag
Authentic: Thicker, more solid text.
Fake: Thinner characters with various scratches across all prints.
3. Interior tongue
Authentic: Thick, very solid "AIR JORDAN" text.
Fake: Thinner and also smaller "AIR JORDAN" logo.

A quick mention:
The steps we've written so far are the BEST ways to authenticate this item
The next few steps are still reliable methods…
… but they apply to non-top-versions of replicas available for this item
If in doubt, we recommend double-checking the steps we've explained above this line.

4. Exterior tongue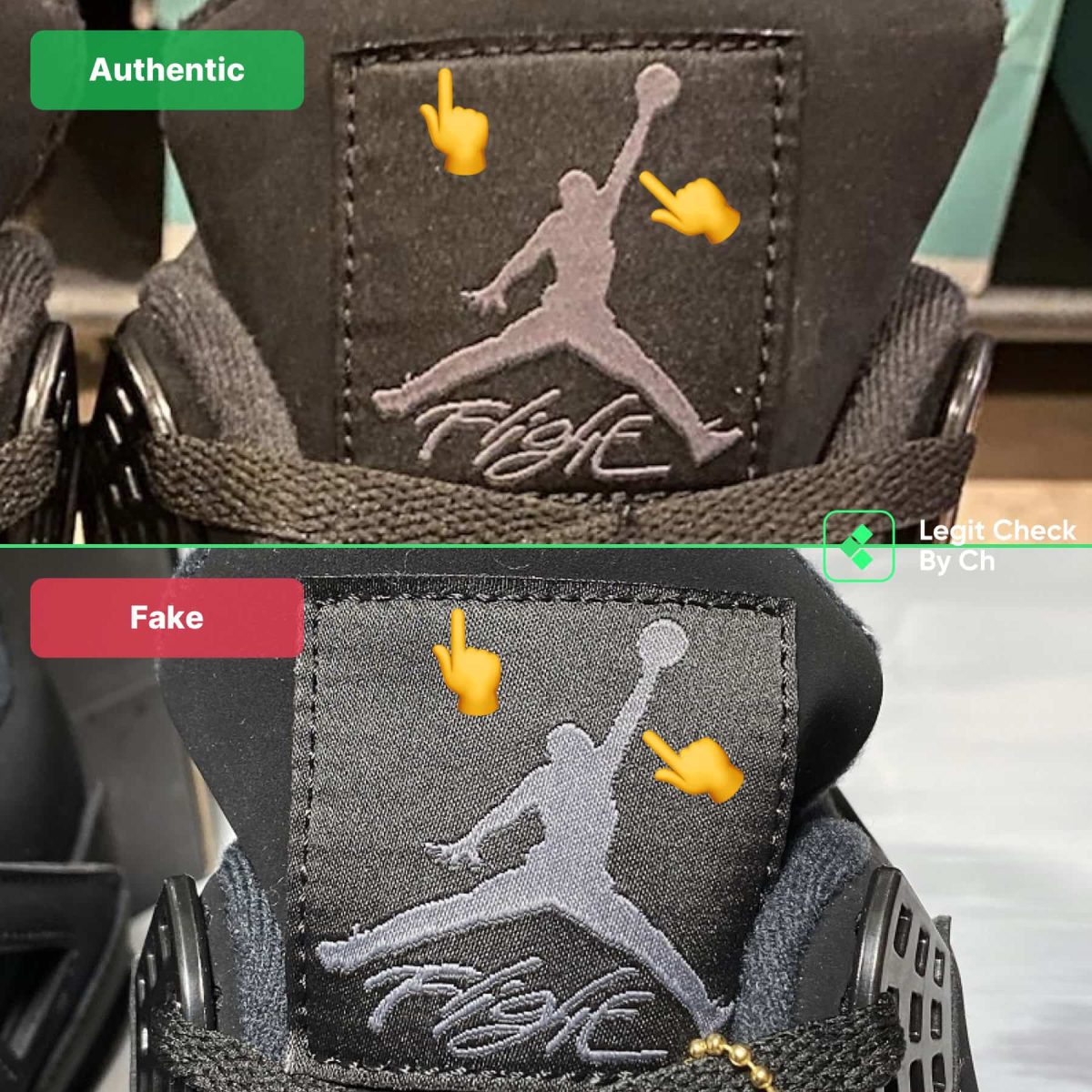 Authentic:

Perfectly straight positioned stitches. Also thicker.
Jumpman's hand with the ball is thinner.

Fake:

Crooked, misplaced stitches. Not in a perfectly straight line.
Jumpman has a thicker hand.
5. Back
Authentic: Thicker, vey solid stitching.
Fake: Thinner, lower-quality threads.
6. Toe box
Authentic: Toe box is higher off the ground.
Fake: The front of the shoe is too close to the ground.
7. Box label
Authentic:

Thicker letters and numbers.
More space between the characters in the style code.

Fake:

Thinner prints.
The style code ("CU1110 010") has its characters placed too close to each other.
Shortlist: How to tell fake Black Cat 4s
Ensure the text on the size tag is not overly bold or thick.
Examine stitching under the cage for high detail; fakes often have inconsistent spacing and wider stitches.
Observe the back stitching for thin, inconsistent threads.
Check the tongue for "AIR JORDAN" text; it's thin and narrow on fakes.
Look at the tongue stitching; it's thicker on real pairs.
Examine the toe box; fakes have a flatter toe box.
Inspect the box's label for thinner text and less letter spacing than the real Air Jordan 4 box.
I want to legit check my Black Cat 4s
For those uncertain about the authenticity of their Air Jordan 4s and seeking expert verification, the Legit Check By Ch Authentication Service is an ideal solution.
This service is provided by seasoned professionals who specialize in inspecting sneakers.
To demonstrate our expertise, we offer free guides detailing the specific aspects we examine when authenticating shoes like the Air Jordan 4s.
Need our opinion on your item's authenticity? It's a service we provide.
Get a fully-detailed report for why you have a real or fake item. Takes less than 48 hours!
Alternatively, use our free resources: written guides and video tutorials.
Thank you for reading this,
Ch Daniel and Ch David