Last Updated on December 3, 2023 by Ch David
Our team has another expert-made Yeezy legit check guide: Foam Runner.
This guide works for all Foam Runner colorways.
No time to waste. Let's jump in this Yeezy guide!
How to know if your Yeezy Foam Runners are real
To know if your Yeezy Foam Runners are real, check the text engraved inside your shoes.
Fakes always have some characters either thicker or thinner than needed.
1. Engraving
Authentic: Thinner inscriptions.
Fake: Text is too thick.
See how the fake letters in "CHINA" are too big as well.
---
Finding it too hard? Legit check your Yeezys with our experts:
2. Size tag
Not all authentic YZY Foam Runner pairs have size tags.
Some even have the size tag glued to the box instead of the shoes.
Authentic:

Thicker prints.
Characters that are closer to each other.

Fake:

The text is too thin.
Too much space between the characters.
3. Holes
Authentic: Perfectly cut, without any rough edges.
Fake: Badly cut, with leftover material on the edges.
4. Sole
Foam Runners have the classic Adidas logo on the sole.
Authentic: Thinner, easier-to-read letters.
Fake: Thicker letters.
Let's have a look at another fake: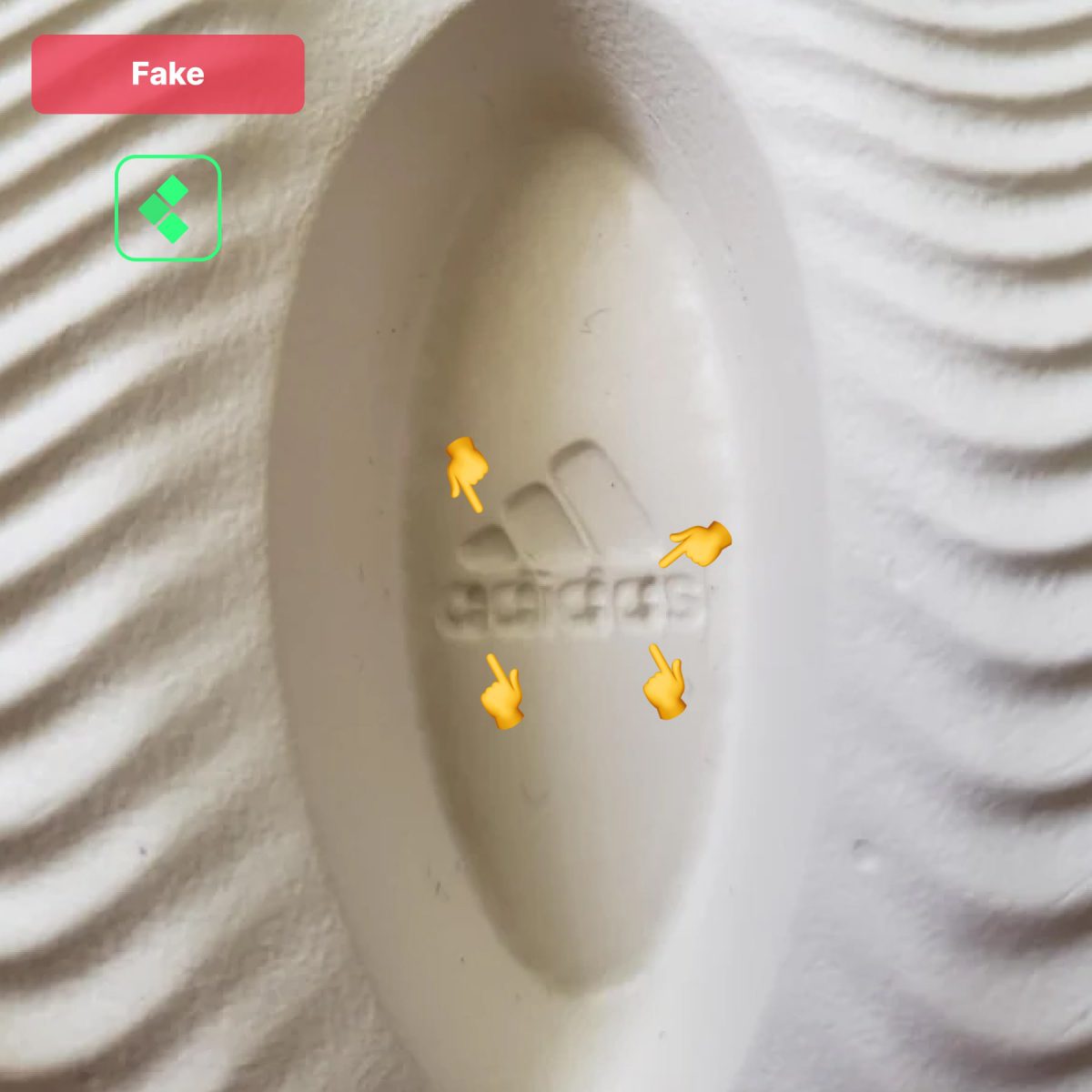 All of the letters above are too thick.
Notice how the 3 lines above the text logo are also thicker than needed.

A quick mention:
The steps we've written so far are the BEST ways to authenticate this item
The next few steps are still reliable methods…
… but they apply to non-top-versions of replicas available for this item
If in doubt, we recommend double-checking the steps we've explained above this line.

5. Texture
Authentic: More textured, visibly different material.
Fake: Too smooth. It's a perfectly smooth surface.
6. Barcode
You'll find the barcode on the box and on the extra tags.
However, we'll focus on the box's barcode.
Every authentic Adidas x Yeezy sneaker has unique information:
Colorway: Depends on your case
Style-code: Same as above
Model: FOAM RUNNER
US Size: 4 to 16
You'll have to look for those matches when scanning.
6.1. How to scan
Follow these simple steps:
Get the Legit Check App
Select the barcode scanner
Point the camera at your FMRNR's box.
Now, time for the results.
6.2. Original
All of the results are helpful.
We have the same YZY as on the box: Foam Runner MX Cinder
Sizes match too: US 11
Style code as well: ID4126
Perfect, 100% legit!
Now, let's look at the fake as well.
6.3. Fake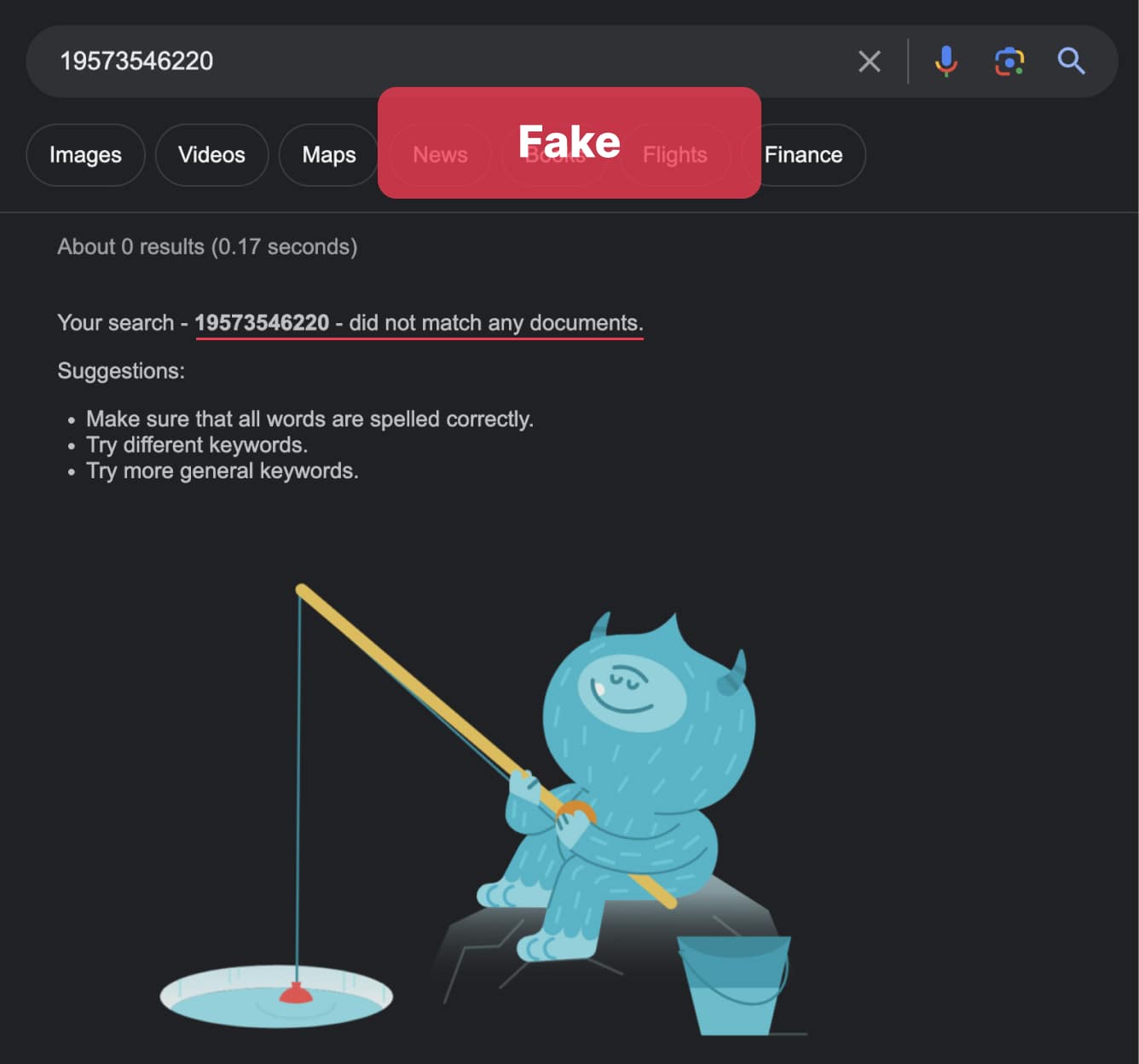 See how no results come up.
This means the barcode is 100% fake.
For a barcode to be authentic, all 4 must match:

Model, Colorway, Style-code, Size.
If 3 match but 1 doesn't, the pair remains fake.
Didn't get it? See our detailed Yeezy barcode guide.
Let's go to the next step.
7. Back
Authentic: No Adidas logo.
Fake: Has na extra "adidas" logo.
This is a sign of a 100% fake pair.
8. Profile
Authentic: Wider holes.
Fake: Smaller, narrower holes.
9. Front
Authentic: Narrower, more "closed" holes.
Fake: Wider holes.
Shortlist: Legit check your Yeezy Foam Runner
If you're running short on time, use this simple list:
Check the text inside the shoes: Beware if the text is too thick, as it indicates fakes.
Examine the size tag: Fake versions often have thinner and more spaced-out characters.
Check for any left-over material inside the holes, which can hint at poor quality.
Inspect the sole's logo: Fakes frequently have disproportionally thick "adidas" logos.
Analyze the texture: Replicas might be excessively smooth compared to authentic pairs.
Scan the barcode: No matches or incorrect information implies a fake pair.
Check the rear view of the shoes: Presence of "adidas" logos here typically signals a counterfeit.
Examine the shoes from the side: Be wary of narrower holes, common in fake pairs.
Look at the shoes from the front: Fakes might present as too wide.
Expert Yeezy Foam Runner Authentication
Require assistance in authenticating your Yeezy Slides? We're here to assist you.
Simply forward us images of your Yeezy FMRNR.
Our team will revert with the authentication results within a span of 24 to 48 hours.
You will receive a detailed report explaining the reasons behind our assessment of your sneakers being genuine or counterfeit.
This concludes our guide on distinguishing real vs fake Yeezy Foam Runners.
Need our opinion on your item's authenticity? It's a service we provide.
Get a fully-detailed report for why you have a real or fake item. Takes less than 48 hours!
Alternatively, use our free resources: written guides and video tutorials.
Thank you for reading this,
Ch Daniel and Ch David